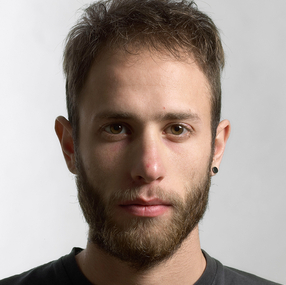 France, Paris
Né(e) en:1988
Assistant depuis:2013
Permis de conduire:Voiture
Voiture personelle:pas de voiture personnelle
Passeport:oui
Langues:Anglais, Français , Italien, Portugais
Téléphone: +33 (0) 6 33 45 19 11
Assistant photo, Opérateur numérique
Federico Evangelista
People, Portrait, Architecture, Repérage, Mode, Beauté, Reportage, Prod. assistant, Nature morte, Culinaire, Paysage, Voiture, Exp. internationale
Connaissances:
Studio lighting for fashion and still life: Broncolor, Profoto, Bowens, Briese. Natural light portraits.

Digital and analog: Hasselblad, Phase One, Canon, Nikon, Mamiya. View camera with medium and big format.

Video with DV and SLR camera.

Software: Capture One Pro, Adobe Photoshop Lightroom, Phocus, Adobe Bridge, Adobe Photoshop, Adobe InDesign, Adobe Premiere Pro, Edius.


Excellent skills as assistant on set: lights, tethered shooting, instant retouches.

Excellent skills in editing and photo retouching: excellent knowledge of softwares, rapidity and accuracy in retouching images.

Good skills in fine art printing: ICC profiles management, papers settings, specific
post-production for printing.
Références en tant qu'assistant / Carrière
EXPERIENCE

Assistant Photographer - Philippe Chancel [www.philippechancel.com]
Paris, France - 11/2013 - 06/2015

Assistant for documentary photography projects. Shooting inside and outside, especially for portraits and architecture, editing, post-production, fine art printing, creative layout.


Cameraman, Estenews - Agenzia Videogiornalistica [www.estenews.it]
Cinisello Balsamo (MI), Italy - 03/2012 - 12/2012

Shooting video, with live studio cameras, of national horse racing in both
hippodromes of Milan, Ippodromo del Galoppo and Ippodromo del Trotto.


Telereporter, Vista Tv - Agenzia Televisiva Nazionale [www.vistatv.it]
Rome, Italy - 02/2010 - 08/2010

Making videonews about political and artistic Italian national life. Following the creation of the videonews from the beginning to the end: shooting, editing and web publication.



EDUCATION

CFP Bauer, Milan - Italy [www.cfpbauer.it]
Bachelor of Photography -
10/2011 - 06/2013

Escola Superior de Comunicação Social, Lisbon - Portugal
[www.escs.ipl.pt]
Erasmus - 09/2010 - 07/2011

Sapienza - Università di Roma - Facoltà di Psicologia, Rome - Italy
[www.psicologia1.uniroma1.it]
Bachelor of Psychology of Communication and Marketing - 10/2007 - 10/2011
Olivier Culmann, Stagiaire photo, 1 à 5 jobs
Vincent Fournier, Stagiaire photo, 0-6 mois
Philippe Chancel, Assistant photo freelance, plus de 1 an
Cyrille Weiner, Assistant photo freelance, plus de 5 jobs
Alexis Cordesse, Assistant de production, plus de 5 jobs
Pierre Charriau, Assistant photo freelance, plus de 5 jobs
Daniel Peter Schulz, Assistant photo freelance, plus de 1 an
Kristian Schuller, Assistant photo freelance, 1 à 5 jobs
Light Kitchen, Assistant photo freelance, 1 à 5 jobs
Zeb Daemen, Assistant photo freelance, 1 à 5 jobs
Steeve Beckouet, Assistant photo freelance, 1 à 5 jobs
Jean Louis Gaillemin, Assistant de production, 0-6 mois
Henryk Lobaczewski, Assistant photo freelance, 1 à 5 jobs
ENUMERIS, Opérateur numérique, plus de 1 an
Huma Rosentalski, Opérateur numérique, plus de 5 jobs
Laurent Dubin, Opérateur numérique, plus de 5 jobs
Yves Gellie, Assistant photo freelance, plus de 1 an
Jonathan Segade, Assistant photo freelance, 1 à 5 jobs
Fabien Montique, Assistant photo freelance, 1 à 5 jobs
Maxime Froge, Opérateur numérique, plus de 5 jobs
Urivaldo Lopes, Opérateur numérique, plus de 5 jobs
Thomas Babeau, Opérateur numérique, 1 à 5 jobs
Adrian T Kubica, Assistant photo freelance, 1 à 5 jobs
Rory van Millingen, Opérateur numérique, plus de 5 jobs
Christian Borth, Assistant photo freelance, 1 à 5 jobs
Wilfried Wulff, Assistant photo freelance, 1 à 5 jobs
Anne Piqué, Opérateur numérique, 1 à 5 jobs
Daniele Portanome, Assistant photo freelance, 1 à 5 jobs
Carlo Furgeri Gilbert, Assistant photo freelance, 1 à 5 jobs
Fabrizio Nannini, Assistant photo freelance, 1 à 5 jobs
ERRECI STUDIOS, Assistant photo freelance, 1 à 5 jobs
Maurizio Pighizzini, Opérateur numérique, 1 à 5 jobs
Bernhard Limberger, Assistant photo freelance, 1 à 5 jobs
Tom Kirkpatrick, Assistant photo freelance, 1 à 5 jobs
Gautier Pellegrin, Assistant photo freelance, 1 à 5 jobs
Max Rommel, Assistant photo freelance, 1 à 5 jobs
Luca Casonato, Assistant photo freelance, 1 à 5 jobs
Lionel Gasperini, Opérateur numérique, plus de 5 jobs
Yannick Verdier Monsegur, Assistant photo freelance, 1 à 5 jobs
Thomas Lavelle, Opérateur numérique, 1 à 5 jobs
Hervé Coutin, Opérateur numérique, plus de 5 jobs
Manuele Geromini, Assistant photo freelance, 1 à 5 jobs
Luc Frey, Assistant photo freelance, 1 à 5 jobs
Jaïr Sfez, Opérateur numérique, 1 à 5 jobs
Jessica Forde, Opérateur numérique, 1 à 5 jobs
Ian Abela, Assistant photo freelance, 1 à 5 jobs
Nickolas Lorieux, Opérateur numérique, 1 à 5 jobs
Claire Cocano, Assistant photo freelance, 1 à 5 jobs
Fernando Gómez, Opérateur numérique, 1 à 5 jobs
Jean-Paul Lefret, Assistant photo freelance, 1 à 5 jobs
Vincent Vesco, Opérateur numérique, 1 à 5 jobs
Martin Konrad, Assistant photo freelance, 1 à 5 jobs
Yves J. Hayat, Assistant photo freelance, 1 à 5 jobs
Robert Jaso, Assistant photo freelance, 1 à 5 jobs
Sara Barcaroli, Opérateur numérique, 1 à 5 jobs
Pierre Tostain, Opérateur numérique, 1 à 5 jobs
Kenneth Foo, Opérateur numérique, 1 à 5 jobs
Marco Cella, Assistant photo freelance, 1 à 5 jobs
Fred Leveugle, Opérateur numérique, 1 à 5 jobs

Portfolio
Message à tous:Envoyez votre offre d'emploi à tous les assistants enregistrés
Facile, rapide et gratuit: