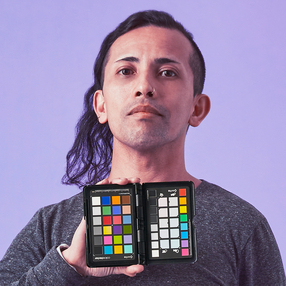 USA, Los Angeles
Né(e) en:1984
Assistant depuis:2011
Permis de conduire:Voiture
Voiture personelle:voiture personnelle disponible
Passeport:oui
Langues:Anglais, Espagnol
Assistant photo, Opérateur numérique
Jonathan Labez
People, Portrait, Architecture, Mode, Beauté, Prod. assistant, Nature morte, Culinaire, Voiture
Connaissances:
I have been assisting since 2011 and shooting photos since 2006. I worked under Milk Studios Digital Techs and coordinators in Los Angeles. I spent a year under celebrity photographer Vijat Mohindra as his personal digital tech, working on shoots for names like Creative Recreation, Miley Cyrus, Paris Hilton, Yahoo! Shine, Gwen Stefani, and B Aukerland (Madonna's Stylist). I spent another year working lighting and digitech under LA local Wes Klain. I studied Digital Archiving under supervision of the Los Angeles County Museum of Art's Photographic department / Digital Manager.

When it comes to lighting and technical questions, I'm at my best. Deconstructing light setups, weird software issues, a hardware or pack malfunction, broken drives. There's a reason my friends call me
at weird hours and ask me to facetime them through their issues.

I work almost exclusively with Profoto lights and Capture One on shoots. I'm well versed in Adobe Photoshop and Lightroom, having been a beta tester for Lightroom.

Because of my experience working with editorial staff through public relations, I often work well with art directors and producers on shoots. If I can help relay their thoughts and concerns while passing the notes onto photographers, I find it helps smooth out shoots. My job is to be your second eyes on a set and make sure images look their best.

Gear available for shoots includes:

Fully loaded Macbook Pro
24" NEC Monitor
27" Apple Thunderbolt Display
Magliner with shelf
Profoto lighting
Mola Rayo
Mola Setti (silver)
Profoto Ring Flash w/ widesoft reflector
Références en tant qu'assistant / Carrière
I co-running Be-mag, the oldest skate magazine, working as Photo Editor and Art Director. I started out contributing and moved up to associate editor. I was honored as 'Photographer of the Year' by ONE Magazine for my work contributing to skate culture in 2014. I've worked alongside my childhood heroes and been fortunate to work with nearly everyone I've wanted to meet growing up. I spent over 10 years in public relations, working with talent and magazine editors to get clients published. My clients were featured in the likes of Maxim, FHM, GQ, Esquire, L'Officiel, and Glassbook. In that time I worked on over 100+ campaigns. I hold a Bachelors in Literature from the University of California, Santa Cruz.
Milk Studios, Opérateur numérique, 0-6 mois
Vijat Mohindra, Opérateur numérique, plus de 1 an
Dan Busta, Assistant photo freelance, 1 à 5 jobs
Liz Collins, Assistant photo freelance, 1 à 5 jobs
Wes Klain, Opérateur numérique, plus de 1 an
Benjamin Von Wong, Assistant photo freelance, 1 à 5 jobs
Bond Agency, Opérateur numérique, plus de 1 an
Emari Traffie, Opérateur numérique, plus de 1 an
Beth Sternbaum, Opérateur numérique, plus de 1 an
Jeff Linett, Assistant photo freelance, 1 à 5 jobs
Bukunmi Grace, Assistant photo freelance, plus de 1 an
Jean Marie Biele, Assistant photo freelance, plus de 1 an
John Russo, Assistant de production, 0-6 mois
Brian Ingram, Assistant photo freelance, 1 à 5 jobs
Djeneba Aduayom, Opérateur numérique, plus de 1 an
Taryn Kent, Opérateur numérique, plus de 1 an

Portfolio
Message à tous:Envoyez votre offre d'emploi à tous les assistants enregistrés
Facile, rapide et gratuit: