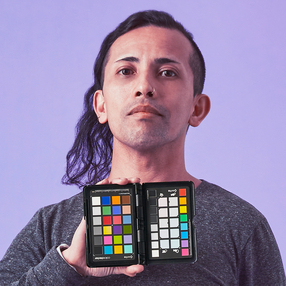 USA, Los Angeles
Né(e) en:1984
Assistant depuis:2011
Permis de conduire:Voiture
Voiture personelle:voiture personnelle disponible
Passeport:oui
Langues:Anglais, Espagnol
Assistant photo, Opérateur numérique
Jonathan Labez
People, Portrait, Architecture, Mode, Beauté, Prod. assistant, Nature morte, Culinaire, Voiture
Connaissances:
The core of my training comes from Milk Studios LA, working under their digital department. I went on to spend a year under Celebrity and Fashion photographer Vijat Mohindra as his in house digitech/first assistant. I have taken Digital Transitions Capture One Masters Program. I've previously worked for Los Angeles County Museum of Art's Photographic department and as Digital Manager at a Public Relations agency that repped models/photographers.

I'm oftentimes the person other photographers/creatives reach out to about problem solve their technical issues and answer questions on
lighting. Oftentimes at odd hours. It isn't unusual to get texts at 2 AM from someone on the opposite coast asking how to trouble shoot a hard drive or a call at 10 PM about deconstructing lighting for a shoot I'm not even on.

Grip and gear available for shoots includes:
15" Macbook Pro
24" NEC Monitor
27" Apple Thunderbolt Display
Magliner
Profoto Lighting (7b and Acuteb 600s)
Mola Rayo
Mola Setti (silver) w/ opal glass
Profoto Ring Flash w/ widesoft reflector
C Stands w/arms
Light stands
Mini boom
Vagabond mini
Pocket wizards
Beacon Phoenix 2 bluetooth speaker
Références en tant qu'assistant / Carrière
In my personal photography, I've worked 10 years shooting for skate magazines and brands. I've had the chance to photograph my child heroes, have ONE Magazine honored me as 'Photographer of the Year for 2014', and more recently became an Associate Photo Editor and Staff Photographer for Be-Mag.
Milk Studios, Opérateur numérique, 0-6 mois
Vijat Mohindra, Opérateur numérique, plus de 1 an
Dan Busta, Assistant photo freelance, 1 à 5 jobs
Liz Collins, Assistant photo freelance, 1 à 5 jobs
Wes Klain, Opérateur numérique, plus de 1 an
Benjamin Von Wong, Assistant photo freelance, 1 à 5 jobs
Bond Agency, Opérateur numérique, plus de 1 an
Emari Traffie, Opérateur numérique, plus de 1 an
Beth Sternbaum, Opérateur numérique, plus de 1 an
Jeff Linett, Assistant photo freelance, 1 à 5 jobs
Bukunmi Grace, Assistant photo freelance, plus de 1 an
Jean Marie Biele, Assistant photo freelance, plus de 5 jobs
John Russo, Assistant de production, 0-6 mois
Brian Ingram, Assistant photo freelance, 1 à 5 jobs
Djeneba Aduayom, Opérateur numérique, 1 à 5 jobs
Taryn Kent, Opérateur numérique, plus de 1 an

Portfolio
Message à tous:Envoyez votre offre d'emploi à tous les assistants enregistrés
Facile, rapide et gratuit: